Start planning your dream kitchen
Once you've made the decision to invest in a new kitchen, it can be difficult to know where to start. But don't worry, as there are plenty of steps that we can guide you through before we meet up to discuss ideas and inspiration. Taking a look at what the current trends are, seeing what new products are available and generally researching the look and feel of what you would like to achieve is essential to create the best kitchen to suit your needs. The most successful designs come from careful consideration, both on the homeowner's and the designer's part, and it's great fun to get started!
To begin, take an objective look at your current kitchen. Think about the layout, how you move about the space, the storage, the worksurfaces, the appliances and the overall style – then make a note of what does and doesn't work. Is there enough worktop to comfortably prepare and serve meals? Do you have plenty of storage for fresh and dried ingredients, crockery, cutlery, pots, pans and cookware? Are your appliances doing everything you need them to or are you missing something that could come in handy such as a steam oven or combination microwave? And what about lighting? Is there a sufficient combination of task and ambient illumination?
Next, make a wish list and include all the things you would like in your new kitchen. Would a breakfast bar make mealtimes simpler; as well as giving children somewhere to sit and do their homework or for you to catch up with friendsover coffee. Would you like a wine cooler for entertaining? How about a boiling water tap for instant filtered hot water for a brew or for cooking pasta? Is your fridge-freezer large enough? Could you do with more capacity for fresh or frozen food? Check out the appliances listed on well-known retailers' websites such as John Lewis and you can get a good idea of what else is available and it may even throw up some new ideas that you hadn't thought of before.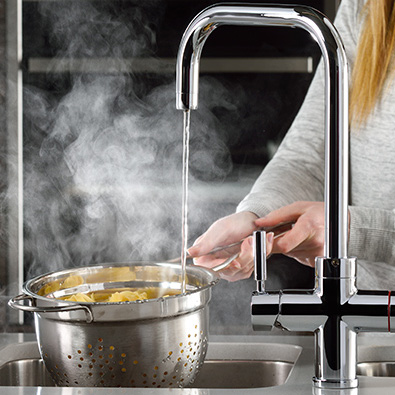 Once the practicalities are noted, think about the style you'd like – Shaker, contemporary, classic, industrial and so on. There are so many finishes and looks to choose from and the best way to communicate what you are after to a kitchen designer is to show them some visuals such as Pinterest and cuttings from brochures and magazines, swatch and paint samples.
Creating a mood board is so much fun and can really help get your ideas across. The thing to bear in mind is that your new kitchen should accommodate as much of your wish list as possible, while overcoming frustrations with your current design.
A good, experienced kitchen designer will ask you lots of questions about your lifestyle,how you use the space and what you're not happy with. This will be valuable information that will help them finalise the layout and present solutions to your
current kitchen frustrations.